How can I help?
aka let's get your marketing materials done!
My approach to graphic design is collaborative and results focused. I get to know your organization in depth, so that I can really understand how to design marketing materials that communicate your mission, help raise funds and keep stakeholders in the loop.
You've got so much on your plate ...
managing multiple projects, events and ALL the other things that the words
"You don't even know!"
might just be floating through your mind right now.
But I do know.
As a graphic designer, I've partnered with some pretty darn dedicated and amazing marketing and communications people for over a decade and have had the opportunity to see firsthand the whirlwind that is managing and implementing a nonprofit's marketing strategy.
So I can relate to your demanding schedule and inbox as well as all the stress you're under.
It's my specialty to take large communications design projects off your shoulders and into my capable hands.
You can rest easy handing your project over to me, a trusted collaborator. My process allows clients to feel like a weight has been lifted off their shoulders, allowing you to get back to ALL the other things. You'll feel a sense of relief knowing your design is taken care of.
I communicate during every step of my design process, estimate accurately, avoid scope creep and meet deadlines on time and on budget.
You can learn more about my design process (The 5 D's) below.
So, let's get your marketing materials done!
Nonprofit Marketing Materials Design
Looking to partner with me on a magazine for your nonprofit?
GREAT, THAT'S MY FAVORITE TYPE OF PROJECT!
Due to the highly individual nature of magazines, they require a custom quote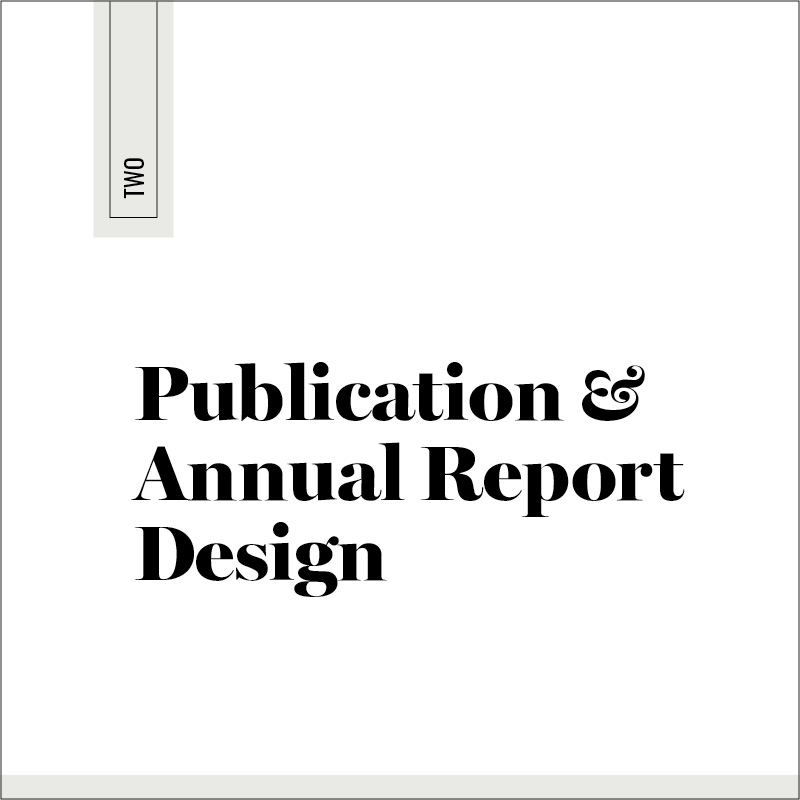 Publication & Annual Report Design
This could be an annual report, publication or an event program. I'm happy to coordinate printing and can provide print pricing once the details are confirmed.
DETAILS
Includes design of 20 pages plus cover
Requires established brand guidelines
STARTING AT
$4,800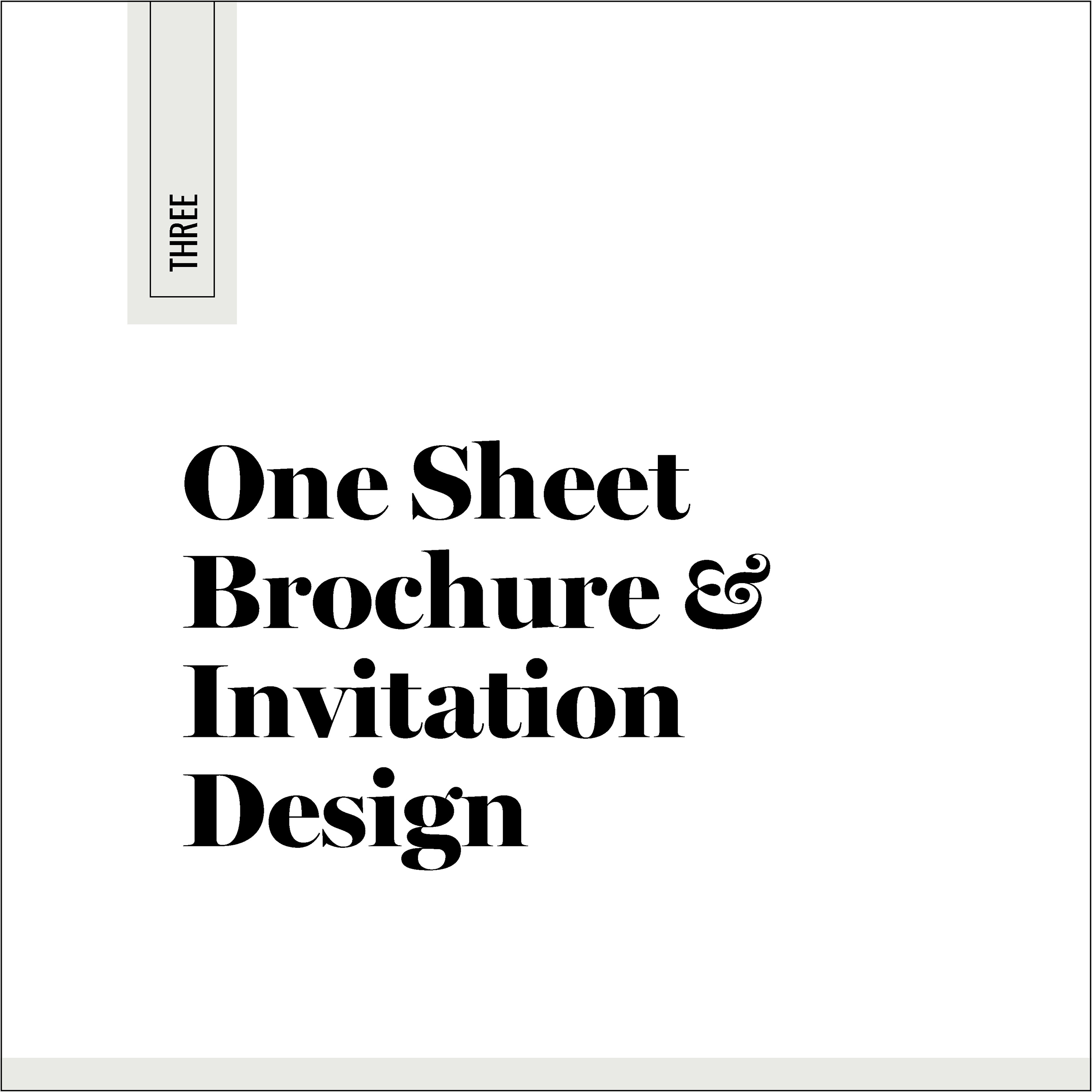 One Sheet, Brochure & Invitation Design
This package is for you if you need a one-sheet, case study, brochure or event invitation. I'm happy to coordinate printing with either my printer or yours.
DETAILS
One Sheet | Brochure | Case-Study
Includes one, double-sided 8.5"x11" page
Requires established brand guidelines
—OR—
Invitation
Includes design of invitation & outer envelope
Reply card & envelope design (if needed)
Quarter page newspaper ad design

STARTING AT
$1,500
Custom Design & Add-On Projects
Not seeing exactly what you're looking for?

I WORK ON A WIDE VARIETY OF PROJECTS!
Here's a short list of projects I take on.

minimum project fee for first time clients starts at $1,500
• capital campaigns
• donor proposals
• white papers
• infographics
• newspaper inserts
• squarespace websites
• slide/pitch decks
LOOKING FOR ADDITIONAL MARKETING COLLATERAL DESIGN?
Here are a few options I provide as add-ons.

Please Note: These are only available when choosing one of the above listed packages or for established clients. I do not offer these as standalone services.
• digital/social marketing collateral
• direct mail campaigns
• event signage
• event collateral
• newspaper/magazine ads

NOT A NONPROFIT?
No worries, I also work with small businesses and creative entrepreneurs!
discuss
Once you've read my getting started guide and complete your project planner, you'll schedule a time that works for you so we can review your project and ensure we're a great fit. If it's a yes, I'll send your a custom proposal and contract. After we both sign the contract, you'll pay your deposit to hold your slot on my calendar.
discover
We meet for a one hour project planning session via zoom, you'll answer any questions I have about the project, you can ask me questions and you'll gather all your content (both text and images) and brand guidelines.
direction
I'll review your project planner, notes from our discovery session and summarize a one page pdf detailing where we're headed with your project. You'll review the summary, make any needed tweaks and sign off on the direction.
design
Based on your approved design direction, I develop two rough design concepts. You pick a concept, provide feedback and we revise the design (up to two times) to get the look just right. After you sign off on the design concept, I lay out the content. Once a complete draft is complete, you review and provide edits via email. Two rounds of edits are included in your project fee. If we're working on a publication or magazine, I recommend using Adobe InCopy so you can edit the content yourself.
delivery
Once you've signed off on the final design, I'll provide final files. The file type will depend on whether I'm coordinating the printing, sending you print- or publication-ready files or the files are for digital use.
Frequently Asked Questions
+ What if I want to add something that's not listed in your packages?
Make sure to mention any additional needs when you fill out your Project Planner Form. Then on our consult call, we can discuss your additional needs and I can provide a custom quote.

+ What are brand guidelines?
Brand guidlines explain the styles set up for your branding and would have been established by the designer that created your brand identity and logo. They include at minimum, your brand fonts, brand colors, logo versions and anything else specific to your organization that make up your visual brand identity.

+ How do payments work?
Payments can be made by credit card or bank transfer.
Project costs are split up into 3 payments. Your first payment (the deposit) is due upon signing the agreement and reserving your spot on my calendar. It is non-refundable. Your second payment is due on your project start date. And the final payment is due at the end of your project, before any project files are delivered.
Project costs are based on the scope of the work and the timeline and will be outlined in your project agreement. If you wish to add or change the scope of work, or if the timeline changes due to delayed response on your part, additional costs may be incurred.

+ What is your refund policy?
If things don't work out and either of us decide we need to end the project, we can submit the desire to end the project in writing. All job expenses incurred through and up to the date of cancellation in addition to labor fees in the form of (a) the deposit paid, (b) a prorated portion of the fees due or (c) hourly fees for the work completed as of the date of termination, whichever is greater will be due.
I will retain ownership of concepts, original artwork and any work completed.
If you cancel the project, your initial deposit is non-refundable.

+ Should I start with design or copy?
Copy first, always and you'll need to have your copy complete before the start date of your project. Working this way allows me to design with your specific amount and form of content, therefore avoiding rework and additional project fees.

+ Who writes my copy?
You are responsible for writing and compiling your content. Or you can work with a copywriter. I'm happy to read through your content and provide feedback if I think there is anything that could be strengthened/reworked. All your content is due by the project start date.

+ Do I need to provide photos and images?
Any photos of you that need to be included in your project will need to be provided as high-resolution, large .jpgs, .tiffs or .psd files.
If you would like photo collages, photo editing or illustrations created, I am happy to do so for an additional fee. Please let me know this during our consult call so I can include the costs in your custom estimate.

+ How many revisions do I get?
Each step of the project has up to 2 revisions. Your project cost and timeline is based on this number. If you wish to add additional revisions, both project cost and timeline will need to be increased.
If we're working on a publication or magazine and you have access to Adobe InCopy (which I highly recommend) we can set the design file up such that you can make text edits on your own until final approval.

+ How long will my project take?
Small projects like one-sheets or brochures take approximately two weeks.
Mid-size projects like slide decks take approximately four weeks.
Publications and magazines take six weeks or longer.

+ How will you hand my project deliverables over to me?
For digital projects like slide decks, after final payment has been received, I'll create a folder containing your file(s) and share a link to the folder for you to access and download.
For projects where I'm coordinating the printing, I'll create a print-ready pdf to share with the printer and interface with the company to proof the project and ensure the final result is just as intended.
For projects where you're coordinating the printing, I'll create a print-ready pdf and send it to you via either email or a shared link to download the file if too large to email. Then you'll coordinate the printing with the file I've provided.

+ What kinds of file types do you provide?
For digital projects, I'll provide either a PDF, JPG, PNG or Powerpoint file.
For printed projects, I'll provide a print-ready pdf and if a web-version is needed, I will also create a smaller web-ready pdf. Please let me know in your consult call if you will need both.

My clients say the nicest things!